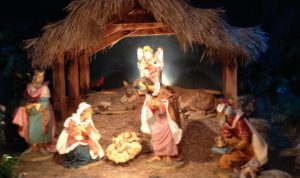 Now the birth of Jesus Christ was as follows: After His mother, Mary was betrothed to Joseph, before they came together, she was found with child of the Holy Spirit. Then Joseph her husband, being a just man, and not wanting to make her a public example, was minded to put her away secretly. But while he thought about these things, behold, an angel of the Lord appeared to him in a dream, saying, "Joseph, son of David, do not be afraid to take to you Mary your wife, for that which is conceived in her is of the Holy Spirit. Matthew 1:18-20
The Making of a Miracle
Written by: Michael Herbert

It was Mary who was first given the message of being chosen to be the earthly mother of Jesus. An angel clearly explained to her that she would become pregnant, but not by her espoused husband Joseph, but by a supernatural work of the Holy Spirit. Joseph was not given the message of the coming Messiah as Mary was told until later. In the natural, Mary was obviously pregnant. There was no way to escape that fact. She was showing more and more. It didn't take a doctor to figure it out.
When a miracle is about to bring forth in our life, everything around us appears to be showing one way. In our heart what we see in all our surroundings doesn't give us any impression that a miracle is about to happen. In fact, it looks like quite the opposite. Mary was pregnant, and if that's all you had to gather the information it would be easy to conclude she was having an affair with some guy and the proof of that relationship was found in a pregnancy. The Bible tells us, though there is much we do see, at the same time there is another world that we sometimes are not even given permission to know or access to unless we have faith. Now faith is the substance of things hoped for, the evidence of things not seen. Hebrews 11:1 What we are told is the things in the spiritual realm are more real than the things we can see with the naked eye. If we based our lives only on the things we can naturally see we would deprive ourselves of any semblance of faith. No, faith requires us to look beyond the normal things we can see and press on in the spiritual. Every expression God brings to us requires a closer examination a complete picture that may or may not play out the way would think, but always produces an end result because we know God is Sovereign. Faith doesn't look at the pregnancy but looks at the miracle that is about to be brought forth. In the natural Joseph knew he was not the father of Mary's baby.  He could only draw 1 conclusion. In our today's passage of the birth of our, Messiah Joseph saw the hope of a happy marriage fall apart into what seemed like a tragedy. What seemed like a marvelous woman of God now seemed bitter tasting because, on the surface, it appeared he was fooled by her innocent look. "Grab an attorney and file for divorce and move on with my life" Joseph must have pondered to himself. I'm sure even in his losing trust in Mary he wondered how this happened to him.
If our story ended there it would have been a common story that we read every day in the news and many times through friends, coworkers, and family. There is yet to be proclaimed a miracle. Joseph was on the verge of giving up on his espoused wife, Mary. In Joseph's despair, he was met by the Lord in a dream. Many godly people are met by the Lord in dreams. The Lord was essentially telling him, "look Joseph", what you're seeing is not really what's going on." "You believe the right thing to do is to leave, but I promise you if you stay you will see a miracle." Something way beyond Joseph's wildest imagination was about to take place. Something he would have never given any thought could ever exist was about to unfold. Forever Joseph's life would be blessed. Joseph, son of David, do not be afraid to take to you Mary your wife, for that which is conceived in her, is of the Holy Spirit. (vs.20) Joseph was given a glimpse into the spiritual realm. Now Joseph had more pieces of the puzzle to safely come to the conclusion, with a sigh, she is still a virgin. It's not what he thought, but there was so much more to comprehend by faith. Out of some of our greatest natural disappointments comes a miracle that totally turns our lives around. That is the way miracles work. We do not know what God is working out behind the scenes.
The virgin birth is one of the pillars of the Christian faith. What unifies us is the belief in the virgin birth and what separates Christianity from other religions is our Savior is alive and he is still in the miracle-working business to this day. Don't fret; Jesus is an expert in changing people's lives. Cry out in faith toward God and let him know what's going on in your life. Be humble, be honest, and be blunt. Walk in faith, not by sight. Too many people give up on their situation, thinking God has left them, but in reality, God is still working things out for our benefit. The King has arrived in a manger. Many look at this season of the year and reach deeper into despair and depression, many people seek suicide, but it should be a time of self-examination to see where we are in the faith. Do we really believe that Jesus is who he claims he is and if he is our hope is not in ourselves, but in the Lamb of God who takes away the sins of the world. The Lord wants to do the miracle, he is waiting for us. But without faith it is impossible to please him: for he that cometh to God must believe that he is, and that he is a rewarder of them that diligently seek him. Hebrews 11:6 The timing is always left to the Lord when the miracle would take place. Jesus was born into this world at the exact minute the Father wanted him here. Every prophecy about the Messiah's birth was accurate right up to the second. When God determines the time of your miracle, it too will be accomplished at the right time. This Christmas many of us are looking for a miracle in our lives. All hope for that miracle seems so far away and yet we are drawn to the virgin birth as proof that miracles happen. We have seen the new birth work and we are aware that miracles still happen today. For unto us a child is born, unto us a son is given: and the government shall be upon his shoulder: and his name shall be called Wonderful, Counsellor, The mighty God, The everlasting Father, The Prince of Peace. Isaiah 9:6