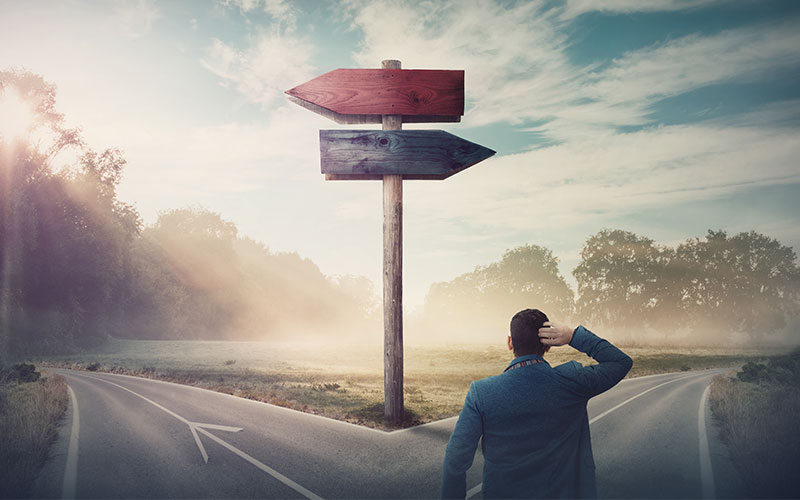 By Michael Herbert
Jesus clearly pointed out that there were two roads that a person walks on in life in their journey they set out are the wide road is all people do but when convicted by the Holy Ghost. They find that the wide road is no longer to their liking and instead they choose the narrow road that's more secure and the wide road there are broad boundaries. The narrow road is where things are more stable for your life. Even little children growing up need boundaries and need security. They find that in their parents. As their parents lead them to grow up and the children become more independent and start to rely more on themselves to set these boundaries. They make choices and set their own boundaries and set their own foundations. We find that in life there are always 2 roads to travel even if you speak. Philosophically,  it works the same way, because in life things that are given to you easily are not the things that you cherish. Those things are on the wide road but, by contrast, the things that you work hard for, the determination to achieve greatness and success, and allow yourself to be led by the Lord every day for your success is only found on that narrow road. The person that is serious about their life is not concerned about the affairs or cares of this wide road but, heavily leans on the narrow road in order to grow something great and mighty.
For the Lord gives us all that we need once we come to Him, For we are His workmanship, created in Christ Jesus for good works, which God Ephesians 2:10 Jesus has certainly set up for us things that he has prepared in advance for us to do but we never know the completion of that until we journey on to the narrow road where all those events are possible. And so there are also two roads in Christianity. There is the person who is given their life to the Lord and has miraculously been saved from sin has their sin debt forgiven. They are on their way to heaven, washed in the blood of the Lamb but Jesus gives us a challenge and he gives us this declaration in John 10:10 The thief does not come except to steal, and to kill, and to destroy. I have come that they may have life and that they may have it more abundantly. Jesus said I know that the miracle of the new birth is wonderful and awesome and there is no comparison to that to anything in life and those that think that miracles ended after the New Testament was written fail to comprehend if you are born again you are a new creature you are New Creation that is only a miracle of God's grace. There are also all two roads as you lead a Christian Life. There is the wide road that leads to complacency, just knowing that your debt that's been forgiven and knowing that you're on your way to heaven. By contrast, there is the narrow road that leads to the Abundant Life that Jesus talks about in John 10:10 and that Abundant Life only comes as we surrender our lives to him. It is when we allow the Holy Spirit of God who has started a good work in us is permitted access to be completed until its very end it is to say to the world "goodbye for I am now crucified with Christ and everything that I do will be for Christ's sake and for him alone my world old longer is surrounded by the things of this life but I have sold out to the things of God". The Abundant Life is for miracles. Beyond Miracles were God's favor rests upon men and women who are sold out for him.
All of this is contingent upon a man or woman or child who walks in obedience to what God has called him to do. Don't forget God is not a God who would allow favor upon those who he does not know will ever come under subjection to greater than what they are right now. God sees the beginning from the end he knows although you may be struggling now, although there may be a temptation or difficulty or something that you have been able to have to overcome now God's favor will rest upon you because he sees that in the end, you will become that which he has called you out to be. He sees that you are trying, he sees that although you stumble at times although you find yourself at war with yourself and you are at war with your feelings as your wrestle the emotions for the wide road, God is able to set you free from things that are overtaking you in addictions yet God knows that you are addressing those things and you are trying your hardest to overcome them. Victory is yours by cooperation with your efforts as he points out to you that you are his you've been bought with a price your body is no longer your own and so with that statement for 1st Corinthians there's also the assurance that if God has bought you at a fair price that it's up to him to be able to sanctify you through. It is through becoming the man or woman of God that he's called you out to be, it's up to him it's up to the Holy Spirit of God with your cooperation that the Lord may occupy that man, woman or child of God that you would be called out to be the fulfillment of their destiny.