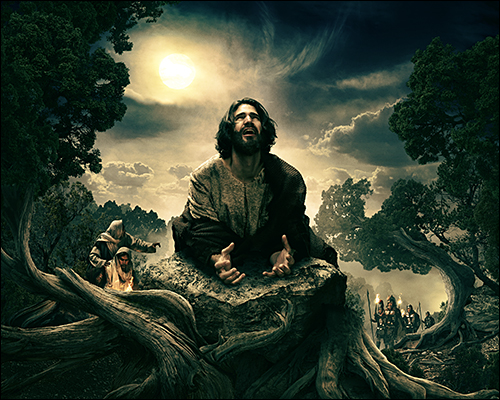 And He went a little beyond them, and fell on His face and prayed, saying, "My Father, if it is possible, let this cup pass from Me; yet not as I will, but as You will." Matthew 26:39
Not My Will Be Done
Jesus was coming to the end of his earthly ministry. It would be hours when he would fulfill his mission on earth. It was in the garden where Matthew takes special note of the exact words Jesus is saying in today's devotion. Many throughout time have dismissed Jesus as the Messiah and fewer yet would credit him as just a good man. Yet we have many eyewitnesses that give this account of Jesus praying before the Father. What was Jesus saying? He was saying Father if there would be another way to remedy the sin of man apart from my death now is the time to divulge that plan. There was silence from heaven. Nowhere do any of the Gospel writers state that Father God had an alternative plan … Jesus was the plan. Countless times in the gospels Jesus could have forgotten the will of the father and done his own; however, Jesus was true to the end.
No other plan to redeem man was possible. It was planned before the foundations of the world that Jesus would be the final sacrifice. Then said he … Lo, I come to do thy will, O God. He taketh away the first, that he may establish the second. By the which will we are sanctified through the offering of the body of Jesus Christ once for all. Hebrews 10:9-10 The silence from heaven meant that the blood of Jesus was the only acceptable punishment for sin. You and I fail to see the immense weight of our sin debt. We believe that being acceptable by comparing ourselves to others, we are alright before God. Christ reminds us that it is a lie from the pit of hell to think we have anything within ourselves apart from Jesus that we can call righteous before a holy God. It is only through the finished work of Jesus on the cross that we can be made righteous. But he was wounded for our transgressions, he was bruised for our iniquities: the chastisement of our peace was upon him; and with his stripes we are healed. Isaiah 53:5
What if, for a moment, we imagine that Jesus was to say no to the Father. Instead, he was to say, Bring me home, these sinners can pay for their own sins. What then? Jesus had the right to say no, but he didn't. Why? Because he knew there was no other way to redeem mankind outside of himself. It was for the joy that was set before him that he gladly took our sin and nailed it to the cross. The highest expression of love was demonstrated to us by Jesus. You need not look any further than the cross to know that there is a loving Father Son and Holy Ghost, who out of grace, gives us life. Grace means God's Riches At Christ's Expense. Grace means God's favor was brought down to us to pay a penalty we cannot pay. Have you experienced this life-giving flow? Have you asked Jesus to wash you as white as snow? Invite him in your heart today!!