A Thought For Today: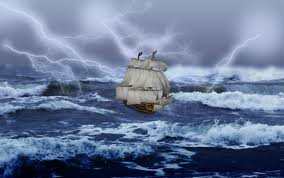 So the men marveled, saying, "Who can this be, that even the winds and the sea obey Him?" Matthew 8:27 NKJV
Storms
After a long night of preaching, my worship leader, Buddy and I returned home exhausted one late night in fall. The interstate was usually favorable for our travels and so we went happy and amazed by all the things the Lord had accomplished in just one single night of services.
Little did we know that we were heading into a massive downpour of rain. It was unexpected and literally came out of nowhere. It was then that Buddy decided that we need to start praising God. Yes, in the thick of concentrating on the road there we were in the middle of I- 90 singing a contemporary Christian song titled, "Praise you in the Storm" by Casting Crowns. As we sang for about 15 minutes we sang louder and louder than to our amazement there was a silence in the air for the rain had stopped completely. We finished singing and praising God for another 10 minutes or so then gave thanks for his mercy over us.
The Disciples of Jesus witnessed one of the most awesome spectacles and that was to the Messiah in total control of the weather. That experience was to prepare them for the storms that would soon enter into their own lives. The Apostle Paul gives us the big picture of what happened that day and every day of our lives. A precious truth that never goes away. And he is before all things, and by him all things consist. Colossians 1:17 Not only does Jesus control the weather but our Savior controls all things. Even the vast universes we have yet to discover Are subject to him. When a new star or constellation is discovered by man, God already knew its existence.
Although the world seems out of control at times we can we rest assured that every storm will eventually see its end.
You and I in this life will enter in many storms. It's a part of life we must learn how to maneuver in. Some we see coming while others are unexpected. None the less we know Jesus is in the boat with us in the middle of whatever storm we face. We are at times fearful because we don't know the storm's outcome or how long it may last. But we have this precious truth that reminds us that even in the hardest of storms we never have to face them alone. Which hope we have as an anchor of the soul, both sure and steadfast, and which entereth into that within the veil; Hebrews 6:19 Although, at times we must hang on with all we got, yet if we hang on we too will weather the storm. Amen